Physicians and physical therapists agree that flexibility is an important part of keeping fit to stay optimal. "Flexibility is the third pillar of body fitness after cardio exercise and muscle strength training. A flexible body can help us achieve the most optimal level of body fitness, prevent injury, and even act as a protective shield from difficult conditions such as arthritis and other serious illnesses.
Repetitive habits, such as bending while working in front of a computer, can shorten the reach of some muscles. This, coupled with a decrease in the elasticity of the natural muscle due to age, can make it difficult for us, so that rapid or spontaneous movement (for example, catching a falling glass) can pull our muscles out of the way, so we can easily sprain or dislocate. Having a bending body can help us easier to adapt to external factors that cause physical stress.
To avoid rigidity, do some super effective flexibility exercises below, once or twice a day, anytime other than just before you exercise. Research shows that stretching before exercise does not reduce the risk of injury or pain significantly. In fact, stretching cold muscles actually increases the chances of injury. If your goal is to improve our flexibility, stretch your muscles 5-10 minutes after your exercise session as the muscles are hot and supple.
Kneeling on the floor with both knees bent, the shin touching the floor. Swing our right foot forward for the right knee position to bend 90 degrees ahead of us, the right foot steady to the floor just below the right knee, and the left leg still bent horizontally against the floor, parallel to our right foot. Place both hands above the right knee and press the hips forward, stretch to stretch while keeping the upper body upright. Hold for 30 seconds, release Repeat for three reps, then change the foot and repeat from the beginning.
Lie on our back, bend your knees up to 90 degrees with our feet flat on the floor, and place our arms straight at our sides. Lift and extend our right foot in front of us, then slowly lift our hips up until we form a diagonal line from right knee to right shoulder, while pressing our upper back against the floor and pushing your chest up. Raise our right foot higher, then lower. Perform 10 reps, and hold the last repetition for 10 seconds. Replace foot and repeat.
Sitting firmly on the floor, stretch your abdominal muscles, and position your legs tightly together in front of your body. Rotate the ribs to the right, keeping the position of the nose parallel to the breastbone and the abdominal muscles still contracting. Lift the ribs away from the hips to turn them farther to the right, so that the upper body position looks higher, turn as far as we can. Back to center; repeat rotate body to left side to finish one set. Repeat 10 sets, while holding the last body round for 30 seconds for each side
Standing high with our both hands on the side of the body. Thrust our right foot back with your right hand with your right hand (the heel position toward the buttocks). Raise our left hand straight over our head to keep your body balance. Press the right foot into the hand to increase the tension along the quadriceps. Hold position for 1 minute, release, then change leg and repeat. In this kind of exercise, we can use a leg stretcher to make it easiser.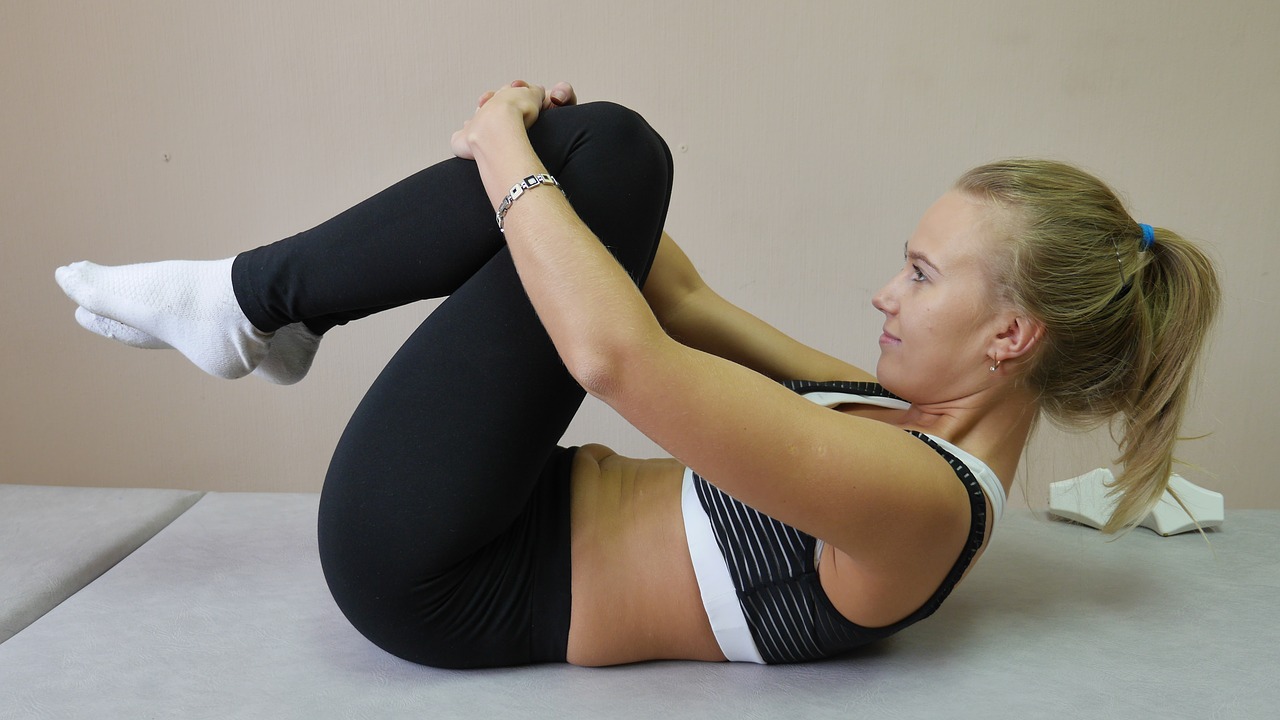 In addition to making it easier for us to adapt to our daily routine and prevent injuries, doing flexibility exercise can also improve blood circulation to the muscles. Having a good blood circulation can help protect us from various diseases, diabetes, to kidney disease. More optimal body flexibility has even been associated with a lower risk of cardiovascular problems due to reduced stiffness in the walls of the arterial muscles, thus decreasing the chances of stroke and heart attack.
In practice, we can improvise by using stretching machine, stretching band, or other flexibility equipments. It will be helpful so that we can achieve flexibility in a fast time.