Flexibility is an important component of overall fitness, yet it's generally the last thing on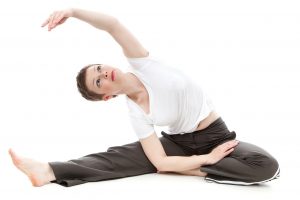 anyone's mind during a workout— that is, until they start experiencing joint and muscle pain. A stretch is often for a quick minute or two after a workout, but it's rarely the focus of most people's fitness regimes.
In order to gain true flexibility, you must stretch the joints in a 360 degree range of motion with a variety of hip-opening stretches. For best results, stretch every day after a light warm-up, and always after a tough leg or lower-body workout.
1. Kneeling Hip Flexor/Quad Stretch
This stretch pulls double duty, stretching the hamstring of the front leg, with a primary focus on the hip flexors and quad of the back leg. For doing this stretching exercise, we have to do some steps. First, we have to kneel on the floor with both knees bent, shins on floor, then lunge our right leg forward, foot flat on the floor directly under your knee, right knee bent at a 90-degree angle.
After that, place our hands on hips and keeping our chest high, move the hips forward keeping them square. lean into the stretch, feel the stretch through both legs, and hold for 30 seconds each leg
2. Forward Fold
This one is easy peasy of stretch training and will leave us feeling energized all over as it brings fresh, oxygenated blood into your brain.
For doing this, first, we have to stand tall with our feet shoulder-width apart, knees slightly bent, arms at your sides. Second, take a deep breath and as you exhale, bend forward at the hips, lowering your head toward floor. Continue to fold until your hamstrings resist, being sure to keep your head, neck and shoulders relaxed.
After we done with the starting steps, we move to another steps. We can hang here, feeling the stretch through the hamstrings and lower back, or for more a more intense stretch, wrap your arms around the top of your head, grabbing each elbow with the opposite hand to add more weight pulling you to the ground. Last, hold for 30 seconds, or feel free to slowly rock from side to side.
3. Butterfly Stretch
This classic stretch exercise will hit the entirety of abductors, outer thighs and hamstrings. First, sit up tall on the floor with the soles of your feet pressed together, your knees bent and dropped out to each side. keeping your back flat and your head high, grasp your feet or ankles with your hands, engage your abs, and slowly lower your torso toward your feet, continue to lean until we feel our abductors resist.
Next, we just need to hold in the previous step for five breaths while we relax into the stretch and then try to stretch a little further. Last, just slowly release and repeat.
4. Reclining Pigeon
This stretch for flexibility is a modification of yoga's pigeon pose, which is done in a lunge position. It's great for tight hips, and also works as a injury-preventive stretch for the knees.
Start with lie face-up with our knees bent, keep the right knee bent, bring it off the floor and externally rotate the hip to place the right ankle on the left knee. Extend both arms and grasp the left leg right behind the hamstring. The, keep our shoulder and head in contact with the ground, pull the left knee into your chest until you feel a stretch along the outside of the right thigh. Hold the stretch for 30 seconds, then switch sides.
5. Standing Inner Thigh Stretch
This kind of flexibility training allows us to pinpoint the right angle for us. We can turn this into a hamstring stretch, too, by straightening both legs and folding forward, like the forward fold, above.
We just need to stand with your legs extremely far apart, about as far as you can get, toes pointing forward. Make sure that once in place, bend your right knee, bringing your right buttock down toward your right heel until you feel a stretch in the left inner thigh. Hold for 30 seconds and repeat on opposite leg.***